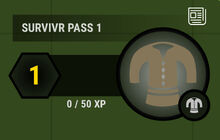 The Survivr Pass 1 is the first edition Pass in surviv.io, and was introduced in the v0.8.6 "Give me a quest" update. This pass features 23 unlockable items and 26 Quests which give 30 or 40 XP per quest. Its successor is Survivr Pass 2 and has no predecessor.
These items have no effect and are only for cosmetic effect, but can be used to demoralize other players lower than you, or to intimidate enemies. A Player with a high level item could be also viewed as an experienced player for they play the game longer than other people to complete quests, or someone who simply bought items with GP.
All of the items from this pass can be found in PARMA Crates after it was ended and Survivr Pass 2 was released in v0.9.2 "Season 2 Has Arrived" update on March 9, 2020.
Trivia
Justin stated on the Discord server that "there are just no pass unlocks past 21 i believe", although this is proven false from the code of the game, as you can unlock the Bayonet Rugged and Bayonet Woodland on level 50 and 99 respectively.

He later confirmed the existence of a level 50 unlock, although he never specified what it was.
These were both before the addition of the Fowl Facade skin at level 30.

Justin stated on the discord that he had plans to release Survivr Pass 2 during March.
Every level in between levels that award you something (e.g. level 34) can be passed with 75 XP, but you won't get anything.
You don't level up after level 99.

There was originally a glitch where your xp bar would endlessly get longer after Level 99, but this glitch was fixed in v0.9.1.