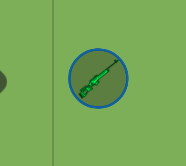 The Snaiperskaya Vintovka Model 1998, or the SV-98 is a bolt-action Sniper Rifle that uses the 7.62mm Ammo and was added in the v0.4.0 "Log and load" update, on 2 June 2018.
Sounds
Strategies
The SV-98 can be used in virtually the same manner as the Mosin-Nagant.

However, the 10-round detachable magazine requires an adjustment in reload strategy.

During combat, reloading the SV-98 when there are more than 5 bullets in the magazine is a waste of time. Five bullets is enough ammo to kill several enemies, and reloading the SV-98 gives them time to heal and reload their weapons.
Although it is a Sniper Rifle, the SV-98 is also useful in close quarters. It deals more damage per shot than the SPAS-12 and its shot does not spread when going down a hallway.
The SV-98 is much more effective if the player can quickswitch. This is extremely effective if the player quickswitches between the SV-98 and another Sniper/Shotgun.
Trivia
The real-life SV-98 was made by Vladimir Stronskiy from Russia in 1998.
The SV-98 is nicknamed "Mosin 2.0" by the Devs because many of it's stats are better than the most common bolt action sniper in the game, the Mosin Nagant.
As was confirmed by Justin, the SV-98 is rarer than the Saiga-12, officially making it the 3rd rarest gun in the game behind the M249 and AWM-S.
The weapon icon does not appear to have a scope, which would make aiming this gun at long range difficult. Most SV-98s would have a scope attached.
Countering
Go close range
Move around, preferably with high Adrenaline
Rarity
The SV-98 is one of the rarest weapon in the game, falling behind the M249, USAS-12, and Golden Airdrop weapons. It is verified to be rarer than the Saiga-12 by Justin, and mainly spawns in golden containers in the Docks, where it is commonly found with a 4x scope and rarely found with an 8x scope. It has a 1/26 chance of the golden Container with the SV-98 in the Docks. It also spawns in normal ground loot, but is very rare.
Pros and Cons
Pros
High damage
Has the longest range of all the Weapons
High Capacity (For a Sniper Rifle)
High velocity
Very Accurate
Highest firerate of all sniper rifles
Great quickswitch capability
Cons
Low DPS
Slows movement speed a lot for a few seconds with each shot
Rare
Damage for Armors
Body Shots
| 80 | No Helmet | Level 1 Helmet | Level 2 Helmet | Level 3 Helmet | Leader Helmet |
| --- | --- | --- | --- | --- | --- |
| No Vest | 80 | 74 | 70.4 | 66.8 | 63.2 |
| Level 1 Vest | 60 | 55.5 | 52.8 | 50.1 | 47.4 |
| Level 2 Vest | 49.6 | 45.88 | 43.648 | 41.416 | 39.184 |
| Level 3 Vest | 44 | 40.7 | 38.72 | 36.74 | 34.76 |
Headshots
| 120 | No Helmet | Level 1 Helmet | Level 2 Helmet | Level 3 Helmet | Leader Helmet |
| --- | --- | --- | --- | --- | --- |
| No Vest | 120 | 90 | 72 | 54 | 36 |
| Level 1 Vest | 120 | 90 | 72 | 54 | 36 |
| Level 2 Vest | 120 | 90 | 72 | 54 | 36 |
| Level 3 Vest | 120 | 90 | 72 | 54 | 36 |
Links
Gallery