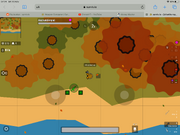 The Norinco QJB-97 LSW, or QBB-97 LSW, known in the game as the QBB-97, is a bullpup 5.56mm LMG. It was added in the v0.5.0 "Air drop it like it's hot" update on July 26, 2018. It is an LMG with a large magazine capacity, and often comparable to a nerfed M249.
Rarity
The QBB-97 is a common drop in Tier Airdrop Uncommon. It also has a 1/121 chance of spawning in a Cabin Wall Mount, and very rarely spawns as Tier World loot.
Strategies
Using
The QBB-97 is one of the most accurate LMGs even when moving; therefore, it is recommended to use this with a high-level Scope.
The QBB-97 can destroy obstacles quickly, giving an opponent nowhere to hide.
Use Mines and other Throwables to limit a target's movement, forcing them to move out in the open.
Be sure to reload whenever possible, as having all 75 ready to go is vital.
Its stats are very similar to the M249, so use it in a similar fashion.
Make sure to pack a lot of ammo since this gun can deplete the whole magazine in a matter of seconds.
Countering
Always have high Adrenaline so it is easier to dodge bullets.
The best way to kill a QBB user is to get in close range and shoot them with a Shotgun, or a high DPS SMG, since the QBB is not suited for close-range fights because of its low DPS.

Using a Melee Weapon would also work, but is much more risky.

Due to the near-zero bullet spread, it is easy to dodge QBB-97's bullets, sometimes even surviving an entire magazine without taking significant damage.

Inversely, a player with good aim can easily kill others with this gun, so err on the side of caution and play more defensively.

Attempt to outgun the QBB-97 user with a higher DPS gun, such as the SCAR-H, and attack during the long four second reload time.
Seek cover, preferably indestructible, and peek out with a Sniper Rifle, such as the SV-98. The high bullet damage can shred through them.

Smoke Grenades can also be used as temporary cover, as the QBB user is unlikely to hit you due to the low spread.

Be aware that if this weapon is not naturally spawned and is on the ground, the odds are good that someone is using it to bait people into a trap because of it's rarity and usefulness. Look around for areas other survivrs can hide before you rush towards it.
Damage
Body Shots
| 14 damage | No Helmet | Level 1 Helmet | Level 2 Helmet | Level 3 Helmet | Level 4 Helmet |
| --- | --- | --- | --- | --- | --- |
| No Vest | 14 | 12.95 | 12.32 | 11.69 | 11.06 |
| Level 1 Vest | 10.5 | 9.7125 | 9.24 | 8.7675 | 8.295 |
| Level 2 Vest | 8.68 | 8.029 | 7.6384 | 7.2478 | 6.8572 |
| Level 3 Vest | 7.7 | 7.1225 | 6.776 | 6.4295 | 6.083 |
| Level 4 Vest | 5.6 | 5.18 | 4.928 | 4.676 | 4.424 |
Head Shots
| 28 damage | No Helmet | Level 1 Helmet | Level 2 Helmet | Level 3 Helmet | Level 4 Helmet |
| --- | --- | --- | --- | --- | --- |
| No Vest | 28 | 21 | 16.8 | 12.6 | 8.4 |
| Level 1 Vest | 28 | 21 | 16.8 | 12.6 | 8.4 |
| Level 2 Vest | 28 | 21 | 16.8 | 12.6 | 8.4 |
| Level 3 Vest | 28 | 21 | 16.8 | 12.6 | 8.4 |
| Level 4 Vest | 28 | 21 | 16.8 | 12.6 | 8.4 |
Sounds
Trivia
The QBZ-97 is an export variant of the 5.8×42mm QBZ-95 assault rifle, converted to use 5.56×45mm NATO ammunition and STANAG magazines. The weapon in-game is based on the QJB-97 (often misreported as the QBB-97) which is an export variant of the QJB-95 (an LSW version of the QBZ-95).

The QBZ family rifles are exceedingly rare in the US, as they are banned in under the National Firearms Act. However, the export variant is commonly available as semi-automatic civilian rifles in Canada (as the Emei Type 97 NSR) and various other countries in Southeast Asia, South Asia, and East Africa.
While the weapon has a correct STANAG magazine for an export variant, it still features an asymmetrical 5.8×42mm drum magazine.

It's the second weapon in the game to be a bullpup design (a gun where the action and feeding are located behind the trigger), with the FAMAS being the first.
It is one of the only 5 weapons to have a visible magazine in the world sprite, along with the M249, the DP-28, the PKM, and the PKP Pecheneg.
It is the only Weapon that was added in the "Air drop it like it's hot" update that can be found somewhere else.
With the Firepower Perk, the QBB-97 has a 95-round magazine, still in 5th in terms of magazine size after the M249, PKM, PKP Pecheneg, and M134.
The QBB-97 is the only weapon without a quality tag (which determines if you can get it if you have the Rare Potato Perk). This is probably a bug, as everything in code, including unreleased weapons (such as the Iron Bomb from the Air Strike and the secondaries from the MIRV Grenade), have a quality tag.
History
v0.6.0
v0.5.02

Nerfed Shot Spread from 3.75 to 4
Slightly lowered the drop rate

v0.5.0
Gallery
Links