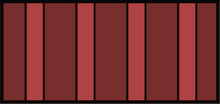 Containers are small, indestructible rectangular Buildings which reflect shots.
There are four types of containers:
Blue containers: These containers have one or two entrances and spawn with loot. They may spawn independently on the map or on the docks.

Blue containers with one opening may have a hole on the roof, which allows you to see what is inside.

Red containers: These containers only spawn on the docks. They are empty and cannot be entered.
Gold containers: These containers will occasionally spawn on the docks. They have one opening and are guaranteed to contain the SV-98, along with 20 blue ammo and a scope (4x or 8x).
Grey containers: These containers spawn as part of the Conch Bunker. The end facing away from the sea will have an opening and the other end will have a ladder leading to the bunker itself.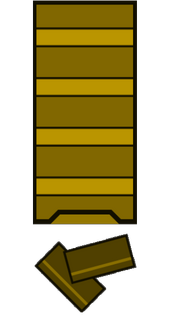 Tips
Hiding inside a blue or gold container is an extremely bad idea, as your opponent can shoot through the opening(s) and easily kill you with ricochets.

However, hiding behind a container is a good idea, as it is indestructible and large enough to run around if being chased.
Loot
Almost anything can be found inside of blue containers except for weapons exclusive to gold airdrops and clothing exclusive to a building. Those include: Royal Fortune, The New Black, The Initiative, Jesters Folly, Casanova Skills, Aquatic Avenger, Coral Guise, Falling Star , Celestial Garb, Island Time, and Water Elemental.
Trivia
There was a bug where Jester's Folly could rarely spawn in a container.