9 millimeter, also known as 9mm (Yellow) in the game, is a type of Ammunition in surviv.io. It is also the most common type of ammunition found in the game.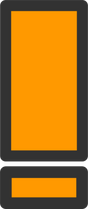 Info
9mm ammunition was invented in 1898 by Georg Luger, primarily to be used with the Luger pistol, which he invented. In surviv.io, 9mm is used for three Pistols and five SMGs.
Storage
Weapons
Weapon
Image
Type
Damage
Fire Rate
Notes
M9

Pistol
12
8.3

[12.5]

Very weak pistol. Common early-game.
G18C

Pistol
9
16.7

[33.4]

"Upgraded" M9. Fully automatic with a bit less damage.
MP5

SMG
11
11.1
Fast Rate of Fire, yet low damage.
MAC-10

SMG
9.25
22.2
Faster RoF than the MP5, but even lower damage.
UMP9

SMG
15 (x3)
8.8
Burst-fire, but higher damage than other SMGs.
Vector

SMG
7.75
26.3
Less damage than the UMP9, but an incredible Rate of Fire.
M93R

Pistol
10
10.8

[16.7]

Similar to the M9, but able to burst fire 3 rounds.
CZ-3A1

SMG
12
18.18
A suppressed SMG that shoots as fast as the Vector, but with a bullet fade effect.
Trivia
As mentioned above, the 9mm ammunition in-game is based on the 9×19mm Parabellum cartridge, as all 9mm weapons currently in the game fire this round in real life.